Let the Gardening Season Begin!
Applications can be submitted at the Annual General Meeting on March 7th, 7-8:30pm @ Civic Center Atrium. Bring your seeds for the Seed Exchange!
If you have not received an application form, contact us! canmorecommunitygardening@gmail.com
We are offering 2 types of community gardening again this season: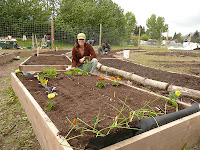 Allotment Garden Plot
$40/season for a 8' x 4' raised 'wicking bed'. There are 25 total of these available for rent. Plot Renters are able to renew their plots seasonally. There are 10 returning plot renters this year, so 15 beds are available. Gardeners maintain their beds autonomously within the organic community gardening guidelines.

New Allotment gardeners agree to participate in a Wicking Bed Installation and Orientation Workshop from 10am-4pm on Saturday June 2nd.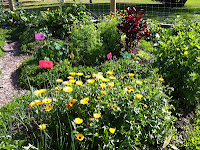 Communal Gardening
$40/season for participation in the communal garden beds. The communal gardens are intended to allow gardeners to share in both the responsibility and the bounty of the garden. First-time gardeners have an opportunity to work alongside those with more experience, and this arrangement allows flexibility for those who vacation or have limited time in the summer. Max 50 gardeners.

Communal gardeners agree to commit a minimum of 1-2 hrs/wk to the garden, to work cooperatively with other gardeners, and responsibly share the garden harvest. They also agree to participate in the Garden Opening & Closing Work Parties.