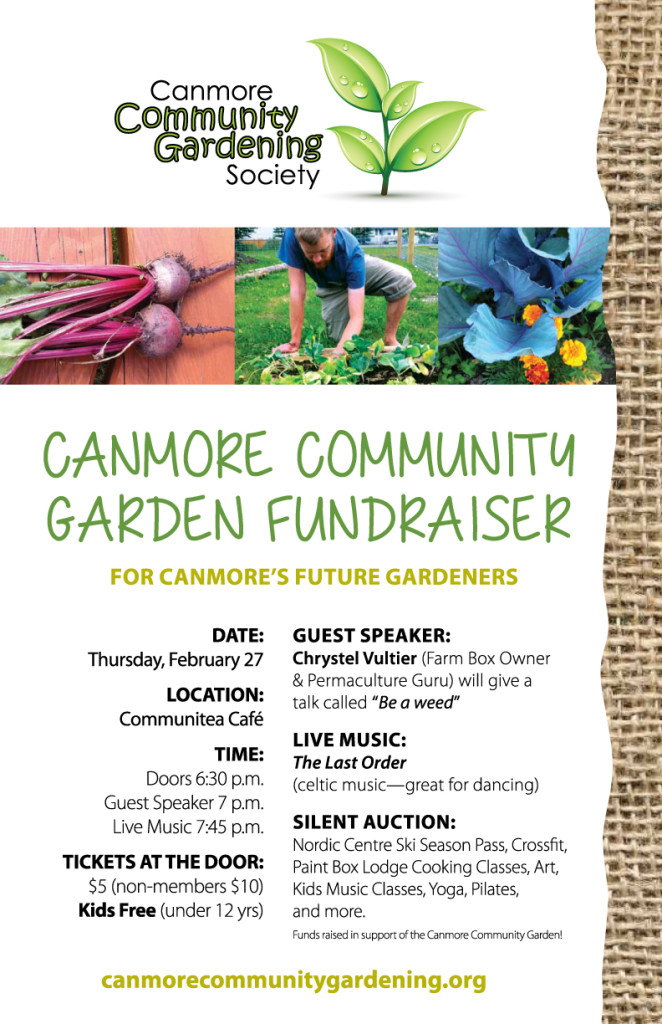 It's time to dig yourselves out of hibernation and come out for a fantastic fun night at the 2014 Canmore Community Gardening Society Fundraiser!   Featuring the talk "Be A Weed" by founding member and Farm Box owner Chrystel Vultier, a dance party with local the Celtic band The Last Order and lots of great stuff to bid on at the silent auction.  It will be hosted by Communitea Café on Thursday February 27.   Doors open at 6:30pm.  Cover charge is $5 for Members, $10 for Non-Members.
About the Guest Speaker…
Chrystel Vultier is a founding member and past president of the Canmore Community Gardening Society.   She is a true local food purveyor for her home town of Canmore, AB. Over the past several years she has been instrumental in creating the Canmore Community Garden which now provides plots for over 100 gardeners in the city and area. She also co-owns the business Farm Box which sources local and organic food directly from farmers in Alberta and BC, and distributes it to over 130 families in a weekly CSA program, as well as making the abundance of healthy produce available to the whole city through a booth at the local farmers' market. In 2011 she attended the Verge Permaculture course.  Chrystel was one of the presenters at the first TedX Canmore event in 2013.
http://www.youtube.com/watch?v=r6t1TSdP8lM
About the band…
The Last Order:  Using the energy of one thumping bass drum, next add a sprinkling of bass and 12 string guitar to capture the attention. Once properly warmed up, add the tin whistle and mandolin for a dash of celtic flare, stir thoroughly and finally add harmony vocals and the subtle use of the harmonica to create a night of Celtic flare & energy. Mix in some Celtic folk, country and Bluegrass to achieve a unique taste for all audiences. Having played throughout New Zealand, Australia, Ireland, U.K., The channel Islands and Canada, It's the perfect recipe for dancing, and always leads to a good nights craic.
The band is made up of
John Paul Mcbride    (vocals, guitar, harmonica and drums)
Tara Brehaut                         (vocals, Tin whistle, Piano)
Grant Hilts                 (Vocals, Mandolin, Harmonica)
A trio of musicians from different parts of the globe, each with a love of Celtic Music and beyond. Just stick a microphone and a pint in front of us and, let the party begin…
http://www.thelastorder.info/index.php
About the Silent Auction:  We have once again had a very generous outpouring of wonderful donations from our community for you to bid on at the silent auction.  Businesses who have donated items include:  Mountain Lady Greenhouse; Paint Box Lodge; Mercato; The Iron Goat; Fireweed Glass Studio; Spring Creek Mountain Village; The Nordic Centre; Yoga Lounge; Crossfit; Vales Greenhouse; Sunny Raven Gallery; Good Earth Café; Onward Up; Natural Mama; An Edible Life; Canmore Homes; Back At It Massage; Music In The Mountains; JK Bakery…