By Lauren
I love greens.  And after a winter of tenderly transporting lone romaine heads tucked deep in my backpack to keep them from Canmore cold, I couldn't wait for fresh greens. We've been growing two boxes of greens in our window for the past two months or so – one filled with spinach and another with mesclun mix.  Neither of which has grown past the baby green stage as I harvest them eagerly to grace the tops of salads.  My window boxes – old soy milk cartons cut in half – are small so the greens they produce play guest roles in salads laced with roasted walnuts, Alberta feta, and BC bosc pears.  Their presence, however fleeting, fills me with the wonder of growing things – both simple and divine.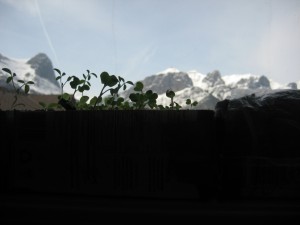 We tried two methods of planting: the spinach with small stones in the bottom of the carton for drainage and the mesclun mix planted entirely with dirt.  I'm inconclusive as to whether the drainage made much difference.  The spinach grew better in the first month while the mesclun mix seems to be the more vigorous of the two at the end of the second month.  Either way, the milk cartons haven't yet yielded more than adornment greens. 
Even with my window greens (and really because of) I'm eager for the first morning harvest of leafy greens.  I was taught to harvest early before the milky sap inside the leaves is drawn up by day's heat, causing the greens to tend towards bitterness rather than the crisp sweet of early morning.  Greens are so tender-delicate yet vibrant and one of the first-comers amongst the rollercoaster temperatures of spring.  I've seen the first greens in the community garden while the greens in my plot are making their first appearance.  Excitement.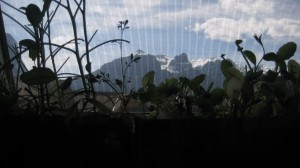 Lettuce begins to resemble art when it bolts – when it becomes too warm and their vegetable instincts tell them to put their energy into flower and seed production rather than channelling that energy to their leaves.  My window spinach has been attempting to bolt for a few weeks, forming graceful tops that look like furry trees.  I've pinched them off and moved them to a more subdued window that tends towards shade and with a wider window to catch the breeze and some night coolness.
These are a few of my experiments with window greens which have sort-of satisfied my excitement for fresh greens picked in early morning light. Experimentation shall continue.