By Lauren Kepkiewicz
One of my favourite abundant vegetables and generally one of the first to appear and the last to be scared off by the frost is kale.  Beautiful curly kale, blue kale, purple kale, dinosaur kale. 
My favourite thing to do with kale is make kale chips – either baked or dehydrated depending on your preference and equipment.  When I discovered that I lived with someone who didn't scrape the bowl clean of kale chips, I began experimenting with seasoning recipes to entice.  This is one that gets people hooked: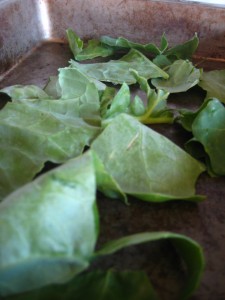 ½-1 head kale
Seasoning:
1-2 tsp cumin
1-2 tbl tamari or soy sauce
1-3 tbl tahini paste
1-2 tblsp cooking oil
1-3 pinch(es) ground cayenne
1-2 tsp honey
1 tsp lemon juice
1 tsp (sometimes) balsamic vinaigrette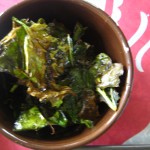 Mix all the ingredients in the seasoning, taste, and add whatever is missing. Tear the kale chips into chip sized pieces.  Once the sauce is mixed toss it in with the kale chips.  I've heard a lot of talk about massaging various different seasoning sauces into kale chips which I do sometimes just to be able to tell whoever may be in the kitchen that I'm providing massages for vegetables.  Either way, make sure all the kale chips are coated.  Spread all the chips out on baking trays – try not to overlap them, they'll be much crispier that way.  Sometimes I coat the trays with a touch more oil, sometimes I don't.  Bake them at 400 degrees for 5-10 minutes.  Stay close and watch them.  Flip them over 2-5 minutes in for even cooking.  Keep an eye on them because they go from crispy to burnt in a ridiculously short time.  It's a fine balance.  Enjoy!