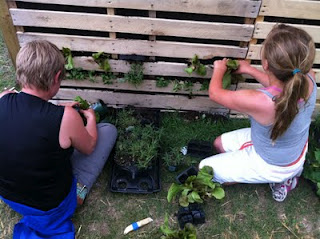 Getting Creative with Recycled Materials!
Community Gardeners experimented with some vertical growing space in the garden during our recent Pallet Garden Building Workshop!
Using strategies inspired by Life on the Balcony, we have planted the walls of our wood pallet tool shed with all kinds of edibles…rosemary, radicchio, cucumbers, cabbage, brussel sprouts and even corn!
We incorporated a variety of recycled and donated materials in this project – starting with the wood pallets that we collected for free, and including all the plants donated by Wendy from the garden center at Sobey's!
These pallet gardens are a great way to maximize growing area when your space is limited…the perfect herb garden for your balcony! And cheap to boot! – pallets are easily collected for free, you'll need a couple of bags of potting soil, landscape fabric, staples and seedlings!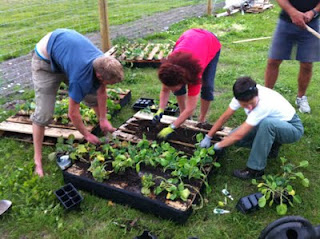 At this workshop, we also planted 4 extra pallets that we intend to use as walls for our temporary greenhouse. These living walls will also create an abundance of thermal mass to maintain temperatures in our greenhouse during our cold mountain nights. We will be working with a combination of pallets and hoops in a creative passive solar design that is most appropriate for our northern climate, and uses as much recovered material as possible!