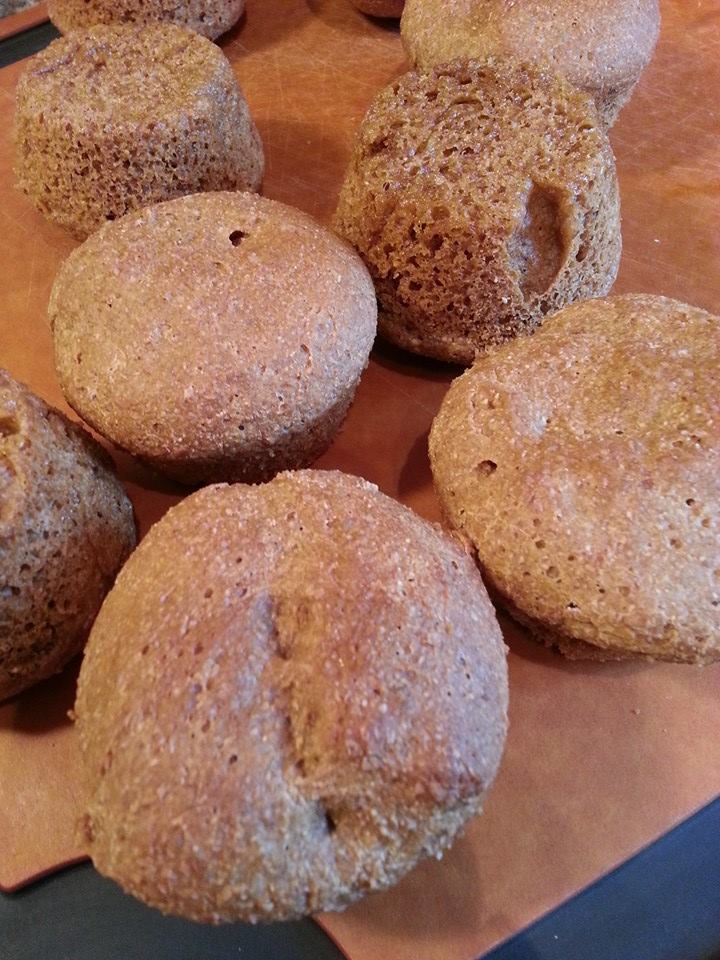 Red Fife Wheat Bread
Red Fife contains less gluten than regular whole wheat flour and so it does not rise or spring as much, instead making a dense, chewy, nutritious and delicious bread.  I have done many experiments and have found that no matter what, it makes better buns than loaves, and as a loaf you get a kind of flat focaccia type shape.  If you are using loaf pans, put more dough in each, to about 1-2 inches from the top of the pan in order to get a functional sized slice for sandwiches.  I have tried just whole red fife flour, adding gluten in varying amounts, and adding white AP flour in varying amounts.  Just Red Fife gives the best flavour.  For a "fluffier"(using the term loosely) texture I like to include 1-2 cups of AP flour.  I do not like the texture from added gluten, if you do decide to add gluten I would recommend not adding more than 1 tablespoon to the sponge.  I have found Red Fife to be "dry" and when adapting a recipe get the best results if I reduce the total amount of flour, ending up with a slightly tacky, soft dough.   I use a mixmaster to mix and knead the dough and then bake it in the oven.  Also, when rising the dough I cover it loosely with plastic wrap or foil, the old-fashioned way is to cover with a damp towel but I found I was getting lint on my bread.  If you don't like the dough to stick to your hands when shaping the loaves you can grease your hands with olive oil or butter.  I buy organic Red Fife flour from Heritage Harvest Farm in Strathmore, Alberta.  Farm Box may be carrying it soon, but in the meantime it is available at Community Natural Foods in Calgary.
Stir together:
3cups warm water
2 packs yeast
1/3 cup honey
2 cups white AP flour
3 cups whole Red Fife flour
Let rise until big and bubbly
Knead in:
3 tablespoons melted coconut oil or butter
1/3 cup molasses
1 tablespoon salt
3-1/2 to 4 cups whole red fife flour
Knead for 8-10 minutes
Let rise to about doubled.  Punch down and divide into rolls or loaves.  Let rise, bake in preheated oven at 350 degrees for 25-50 min. watching to not overbake.  You can tell the bread is ready when you knock on the crust and it sounds hollow.
http://www.heritage-harvest.ca/
https://limeleavesandtastebuds.wordpress.com/2010/04/09/reasons-to-love-red-fife/