After our Water Solutions Brainstorming Session last week, we've decided to test the waterworks in our garden to make sure they are working as designed before we go ahead and replicated them in the second half of our garden.
There was some concern over the amount of water used in our Wicking Beds this season, which is more than should be necessary, there are several reasons that this might be: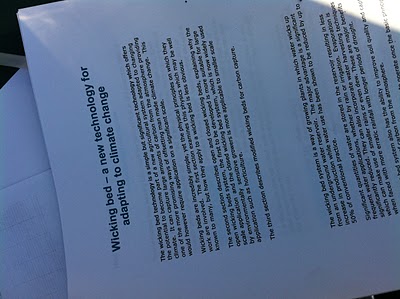 a) The reservoirs are leaking: Perhaps the black plastic used to line the reservoirs wasn't durable enough, has been punctured by the rocks and is allowing water to seep into the ground.
or
b) The beds aren't 'wicking' properly: the gravel used to fill the reservoirs is too porous and the "wicking action" of the beds is not actually working as it should,
or
c) Gardeners are over-watering: the purpose of the beds is to limit and even sometimes eliminate the need for top watering. Perhaps gardeners are unsure of how much water their gardens really need, or are skeptical about how effective the wicking beds really are, or watering habits just need to change.
So, Julia and Ryan tested the beds for leaks. They filled all of the beds on Thursday Sept. 20th, and recorded how much time was needed to fill the reservoir. They came back to check the following day, topped up each bed, and again noted how long the reservoir took to fill, the idea being that if any took remarkably longer than the rest this indicated there might be a leak.
See their results here.
They concluded that there are just a few beds that are taking significantly longer than the others to fill, and should be checked for leaks.
This weekend, Robin, Avni, Adam and Chrystel tested different reservoir materials to see if any worked better than others. We looked at the gravel currently in our beds, sand, a mixture of the two and wood mulch.
We also decided to do a test dig in Robin's bed to see if it is working as it should. At 11/2″ below the surface the soil was an optimal moisture, and remained that way right to the bottom. We also saw evidence of really healthy and deep root growth from the plants that had been growing there as they also reached right to the bottom of the bed.
We folded back the landscape fabric to reveal wet rocks, and found the water level 6″ below the surface of the reservoir.
We then timed how long it took to fill.
After 8 mins the reservoir was full and the over-flow drain worked perfectly.
We've left the hole open (though covered) to monitor over the next few days how quickly the water level diminishes.
We're pleased that the results indicate that the wicking beds are functioning just as they are designed to!