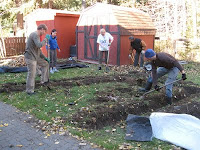 Work Party Schedule for first 3 Weekends in June:

Please consider how you are able to be involved and RSVP to canmorecommunitygardening@gmail.com so we know how many hands will be on deck for each session!

Come ready to work! bring sturdy shoes, gloves, water, weather appropriate clothing.
Lunch will be provided!
Saturday June 4th 9am – 5pm : Fence Installation
Needed: 20 volunteers familiar working around machinery (bobcats) and with heavy lifting – fence posts/rolls of wire fencing.
Tasks:
* Operating/guiding bobcats to dig fence post holes, dig wildlife trench, swale pathways and wicking bed bases.
* pounding and tamping posts
* trenching & burying wildlife apron
* unrolling and fastening wire fencing
* fixing braces


Sunday June 5th 10am – 4pm : Wood Treatment and Building Projects
Needed: 10 Volunteers to apply wood treatment to raised bed lumber
6 Volunteers to build water cistern stand, construct pedestrian gateTasks:
* setting up tarps and work space
* applying wood treatment to lumber with brushes
* constructing water cistern stand
* constructing and mounting pedestrian gate


Saturday June 11th 9am – 5pm : Communal Garden Permablitz!
Needed: up to 30 Volunteers for lots of lifting, hauling, shoveling, mounding, filling
Tasks:
* fill swale pathways with weeping tile and wood mulch
* form communal beds with logs
* mound communal beds with displaced turf, mulch, compost, soil
* erect greenhouse
Sunday June 12th 10am-4pm : Wicking Bed & Tool Shed Construction
Needed: 10 volunteers with construction skills to build wicking beds
4-6 creative volunteers interested in building a toolshed out of up-cycled wood pallets!
Tasks:
* constructing 15 8'x4′ wooden boxes for wicking beds
* constructing tool shed 8'x8′ tool shed our of wood paletts…let's get creative!

Saturday June 18th 10am -2pm – Wicking Bed Installation and Orientation
Needed: 15 Plot renters and any Volunteers keen to learn how a wicking bed is installed
Tasks:
* level and install wicking bed reservoir
* dig spillway
* add raised bed wood box and fill with soil

Sunday June 19th 10am -2pm – Wicking Bed Installation and Orientation
Needed: 15 Plot renters and any Volunteers keen to learn how a wicking bed is installed
Tasks:
* level and install wicking bed reservoir
* dig spillway
* add raised bed wood box and fill with soil