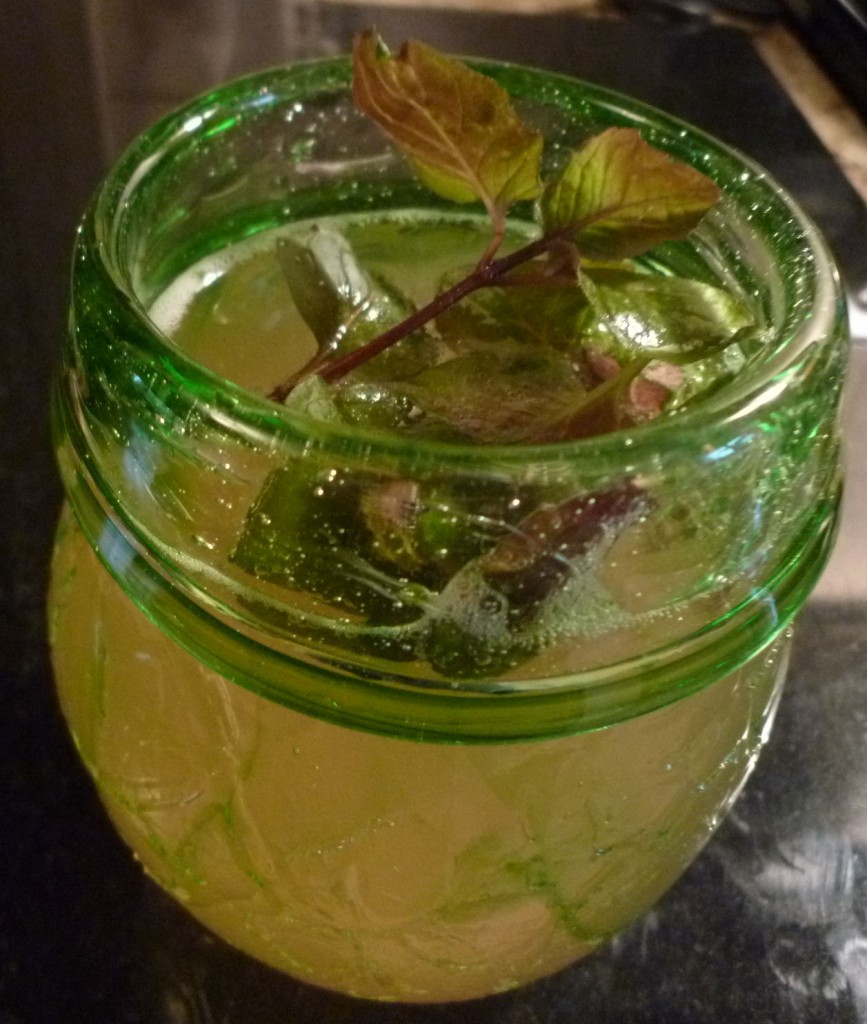 June is Rhubarb Season!  And don't let me catch anyone paying their hard-earned money for rhubarb around here; the stuff grows feral all over the place in Canmore, almost as prolifically as dandelions.  Grab a knife and a bag or a basket and go pick some.  There are a few young plants growing around the Community Garden, but if someone beats you to them, or you are not a Member of the Community Garden, not to worry.  There are gorgeous huge plants all over the place.  The best spot to find rhubarb is probably by the river below Prospect Heights.
When harvesting rhubarb, you want to select larger stalks, usually growing around the outside of the plant, and cut or twist them off close to the ground.  Leave the smaller stalks to keep growing.  Cut the leaf off, it is poisonous (we never eat the leaf, my little neighbors have been read the Riot Act about this), and keep the stalk, the stalk is what we're after.  As with many plants, it tastes the best if you harvest it before it starts to flower.  Note that not all rhubarb has a red stalk, and some of the yummiest varieties have pale green stalks.  Also, keep in mind that as abundant as the rhubarb harvest is, you want to pace your consumption and don't overload on it as it contains a substance that if eaten in large quantities can cause kidney problems.  Rhubarb is a special treat.  It freezes well and you can store rinsed, chopped rhubarb for months in the freezer to cook later.
–Useful in the garden:  Lay rhubarb leaves on your garden beds to help keep weeds down.  The leaves are also good to compost.
–Fresh and Raw the Old-Fashioned Way:   rinse your freshly picked rhubarb stalk, and dip in a bowl of sugar.
–Rhubarb fool–easiest dessert ever:
This recipe has yoghurt.  Just using whipped cream works too.
 450g rhubarb, coarsely chopped
 150g caster sugar
 juice and grated zest of 1 orange
 3 cardamom pods
 100ml double cream
 100ml yoghurt
Mix the rhubarb, sugar and orange juice and zest together and place in an ovenproof dish. Add the cardamom pods. Cover and bake in an oven preheated to 190°C/Gas Mark 5 for 30–45 minutes, until the rhubarb is completely soft. Remove from the oven and leave to cool completely. Take out the cardamom pods and purée the fruit.
Whip the cream with the yoghurt until it just holds its shape. Carefully fold the purée into the cream so you have a ripple effect, then transfer the mixture to serving glasses. Chill before serving.
–Best Rhubarb Crisp Ever: (For Ginny!)
Combine:         1 cup AP flour
¾ cup rolled oats
½ cup melted butter
1cup brown sugar
1tsp cinnamon
Pack half the mixture firmly into an 8×8 or 9×9 square baking pan.  Save the other half for later.  Cover with 4 cups chopped rhubarb.  You can substitute some rhubarb with apples or berries, whatever you have.
Syrup: Combine in a saucepan:
1 cup brown sugar
2Tbsp. cornstarch
1 cup water
1tsp vanilla bean powder
Cook syrup over medium heat, stirring constantly, until it thickens.  Pour over rhubarb then top with remaining oat mixture. Bake at 350F for one hour.
–Grand Finale:  My most favorite thing to do with rhubarb.  Rhubarb Cocktails.
Step 1- Make Rhubarb Syrup: I got this recipe from World Vegetarian by Madhur Jaffrey (Everybody should have this cookbook)
Chop 3lbs rhubarb into 1 inch pieces, (I usually go with about 8 cups chopped) put in stock pot with about ¾ cup water, bring to a simmer and cook it down for about ½ hour.  Strain (a jelly bag/strainer works fantastic for this step) and put the liquid in a clean pot with 4-3/4 cup sugar (just use plain old white refined sugar.  You will see this isn't about being healthy and everything else I have tried gives the syrup an unwelcome flavour, for way more money) and a bottle of RealLime, or if you prefer, the juice of 10-16 fresh limes, approx. 2 cups.  Cook over medium-low heat, stirring constantly, until it starts to thicken and get syrupy.  Store in jars with non-corrosive (plastic) lids. You can stop here and mix it to taste with club soda for a rhubarb Italian soda.
Step 2 – Make the mojito:
Muddle a sprig of fresh mint in a glass with a shot of rum (dark rum tastes best but the clear rum will make the prettiest cocktail)
Add 1-2 oz. (to taste) rhubarb syrup
Add ice cube, top up with club soda, give it a stir, garnish with a wedge of lime or a sprig of mint.
Step 3 – Variations:
Rhubarb Margarita:
In the glass you are using to serve the cocktail, fill with ice, a shot of tequila, shot of Triple Sec and rhubarb syrup.  Dump contents into blender, blend into a slush, return to serving glass.  Garnish with lemon or lime wedge.
Rhubarb Gin'n'Timber:
Muddle 3-5 fresh sage leaves with a shot of gin in a glass.  Add 1- 2 oz. rhubarb syrup to taste, juice of half to one lime, top with tonic water (or club soda) and ice, stir, garnish.
–By Nicole Tremblay and Sandra Grad
You can buy Madhur Jaffrey's "World Vegetarian' from Amazon.  It really is the most essential cookbook out there.
http://www.amazon.ca/Madhur-Jaffreys-World-Vegetarian-Meatless/dp/0609809237/ref=sr_1_2?ie=UTF8&qid=1370485025&sr=8-2&keywords=madhur+jaffrey