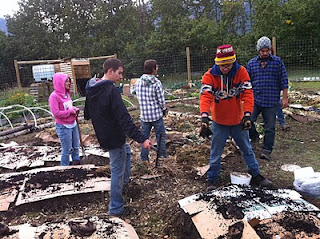 As you may know, our community garden has benefited from the enthusiastic support of several Katimavik volunteers this season.
Katimavik is a nationally funded non-profit youth volunteer service that has been active in our community for the last year. There are currently 10 volunteers working with various organizations in Canmore, and they are now, in turn, seeking support from our community as they look for billeting opportunities for their volunteers in an effort to further integrate into and experience life in our community.
The billeting period is from Oct. 21st to Nov. 4th. Families receive a stipend of ten dollars per day to helpoffset costs for billeting a volunteer.
The billeting period can be a very rewarding and enjoyable experience for both your family and the
volunteer. It is an opportunity to share your passions and enthusiasm about your hobbies and your
community with another person.
If you are interested in opening your home to a Katimavik volunteer, please contact Lauren at : canmore@katimavik.org
To learn more about this project, visit the Katimavik Website