For all you who work in construction related trades or who have access to scrap materials we are keen to salvage, recover and reuse as much material as possible in our building projects!
Do you have access to any of the materials on this list? Let us know!
canmorecommunitygardening@gmail.com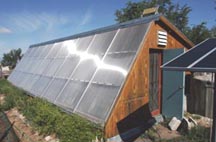 Passive Solar Tomato House:
Our project is a small 12′ x 8′ growing space along the north fence of the garden for tomatoes and other heat-loving plants that won't thrive outdoors in Canmore!
* pressure treated lumber for framing:
14 x 4"x4" in 6' lengths (for crossbeams)
4 x 6"x6" 12' lengths (for posts)
off-cuts of 2"x4"/6"/8" longer than 4' …lots!
* roof material
plywood – 8 standard 8'x4' sheets
plexiglass – 12' x 8' (pieces divisible by 4)
steel roofing/shingles /aluminum – any light, sturdy roofing material…
* back wall
8 x recovered wooden pallets – in best condition possible
3 rolls thick landscape fabric
* side walls
2 x doors – standard size. any material really.
* misc.
5 x tubes of outdoor caulking
6lbs 3 ½" screws
1 roll vapor barrier
stain and seal for plywood
This is a non-traditional greenhouse designed specifically for northern climates characterized by extensive summer sunlight and cool nights. These greenhouses are not all glass or plastic, but instead have an opaque northern wall made out of a material that will collect and radiate solar heat into the greenhouse throughout the cool nights, and a roof that actually provides some shade from the intense mid-day sun!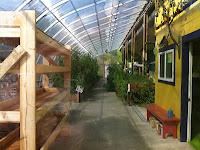 Check out this blog post from Verge Permaculture describing the design and construction of their backyard greenhouse in Calgary.


The Invermere Community Greenhouse (photos to the right!) is a stellar example of passive solar greenhouse design! Check out this You Tube video chronicle!